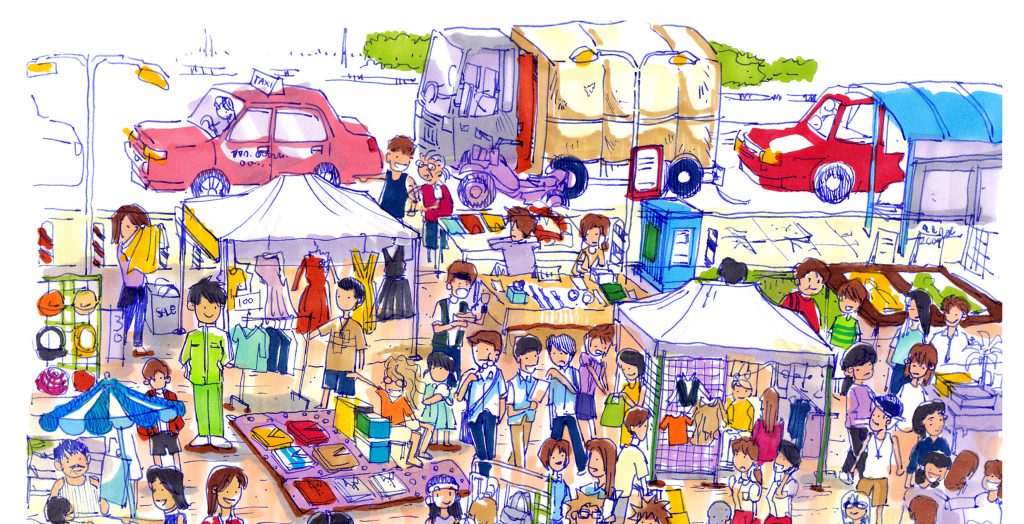 Bangrak Market is easily considered to be heaven for all food lovers in the vibrant city of Bangkok. Located in the Bang Rak district, the Bangrak Market has made a distinct name for itself from the delicious food stalls and vendors selling special Thai delicacies. It's one of the markets that should be on everyone's shopping list when visiting Bangkok. It should also be listed as a lunch or dinner destination while you're exploring the grand capital city.
What's best about the Bangrak Market are the locally owned food stalls and small restaurants in the area. Not only do they have great eats, but the traditional meals are prepared by second, or even third, generation chefs. Each plate embodies the true taste and flavor of the most authentic dish. Discover what the most popular dishes are and what you should try when you come visit the Bangrak Market.
Foods You Must Try in the Bangrak District
If you love seafood, you can't miss trying the mussel and oyster pancakes at Thip Hoi Thot Phu-khao Fai. Apparently, the name of the popular shop means "volcanic fried mussels," because of its infamous past. When it was just a small food stall, the stove that they used created a high and intense flame. It would attract the tourists and foreigners into trying the crispy seafood pancake and would forever be known as (its current name).
Although the owners use a different stove and there isn't as much of a fire show, many locals and visitors still frequent the shop to this day. When you get your mussel or oyster pancake order, it will glisten with grease and sweet and sour chili sauce. It will be served over bean sprouts, providing a crunch after you take a bite of the soft and gooey mussel batter. Don't be afraid to ask for another.
If you're in search of a sweet Thai dessert, look no further than Boonsap Thai Dessert at the Bangrak Market. This small dessert cart has been around the district for a long time. The quaint cart boasts that it's been making desserts from the founder's original recipes since before the second World War! They now have their very own shop but still showcase their prized sweets on a wooden cart. You must try their sweet sticky rice dessert with a serving of fresh mango slices. Your palate will be enamored by the incredible flavor!
Strolling Through the Bangrak Market
What's unique about the Bangrak Market is that there are many different flavors from different countries and regions. It won't be surprising to find a Chinese dumpling stall next to an Indian shop serving biryani rice. This is a great place to go with a large group since there are many places to go and various foods to try. There are even great walking food tours that take you to the best local spots. Either way, you won't go wrong with following your senses and your cravings.
Even though the Bangrak Market is mostly known for its food shops, there are also retail stores around. You can easily find clothes and other souvenir type items for family and friends back home. This is also a great area for local entertainment. Many of the bars in this district have outdoor balconies that provide some of the best city views of Bangkok. Be sure to check out the Lebua State Tower Distil bar for an excellent sunset over the Chao Phraya River.
Other Great Spots Around Bangrak Market
The Bangrak Market is located in a beautiful area in Bangkok since it's near the King Taksin Bridge that crosses the main river. The market is also a short walk away from a stunning and colorful Buddhist temple, Wat Yannawa.
If you're looking to do some clothes shopping, the Robinson Department Store is right next to the Bangrak Market. This is a great way to spend the rest of your afternoon after you have a delicious lunch. Centre Point Hotel Silom is conveniently located next to the mall, providing easy and comforting accommodation. You can easily walk to these fantastic local spots without spending a lot of money on transportation. The Silom metro line is also very close so you can avoid city traffic when touring around the city. Learn more about the Centre Point Silom Hotel and how you can enjoy your business trip or vacation.