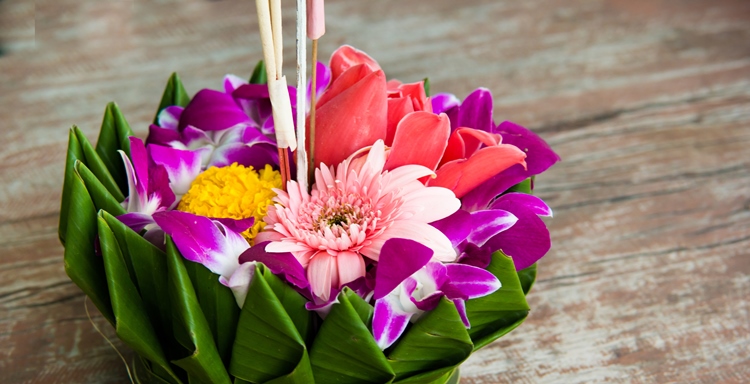 The citizens of Thailand anxiously wait for one of the largest celebrations that takes place every November. Loi Krathong is a joyous event that happens every year on the full moon of the 12th month (going by the lunar calendar). If you're planning to visit Thailand during this time, you can not miss the opportunity to join in on the festivities. Loi Krathong will take place on Friday, November 3rd this year in 2017. Here's more info on the celebration and where you should go to enjoy the holiday.
What's Loi Krathong?
The meaning of Loi Krathong explains the main event of the celebration. Loi Krathong simply means "to float a small container of leaves." Yet the container is in the shape of a small boat or floating device. Loi Krathong was created as a day to praise the water spirits and the river gods. The celebration is said to have come from an ancient ceremony that would pay respects to these natural water gods.
In order to pay respects, each person takes their floating boat or vessel and glides it across the river or pond. When you do this, you must make a wish. Many people put money, such as coins, or small parcels of food. This is ultimately an offering to the gods and showing your respect for their work. You will find that many boats also have a lit candle on them. This makes it easier to see your boat in the moonlit night. It also creates a majestic look, with the glow from the flame reflecting off the water.
How to Make Your Floating Ship
If you're looking to celebrate Loi Krathong with Thai locals (which you definitely should!), you'll want to make your own floating boat. You can easily make one out of paper, but it might not be stable for very long, especially if you're planning to put a candle in it. Many locals still make their boats out of banana leaves, which are not only sturdy, but they're pretty water resistant.
The one material you're forbidden to make your boat out of is styrofoam. Thai officials have found styrofoam to be bad for the environment and are advising people to not make boats out of it since it can't breakdown in the water. Luckily, there is a cleanup crew that will collect all the lost boats throughout the city of Bangkok.
Where to Celebrate Loi Krathong
          If you're looking for the best place to celebrate Loi Krathong, you should head to the Sathorn-Central pier on the Chao Phraya River. The Chao Phraya River is the main river that cuts through the center of Bangkok. It's the largest river in the city so you can only imagine how many boats will be floating all at once!
If you also don't have time to make a boat, no problem! The good news about celebrating Loi Krathong at this location is the fact that there will be vendors selling boats to float along the pier. What also makes celebrating Loi Krathong along the Chao Phraya river so significant is the fact that thousands of farmers all over Thailand consider the Chao Phraya to be the river of life. You'll meet many friendly faces from all over the country and the world at the Sathorn-Central pier.
Finding a Great Place to Stay in Bangkok
If you're looking to stay somewhere that's comfortable and close to the Chao Phraya river, check out our Silom suites here at Centre Point. Centre Point Hotel has five location around Bangkok, and our Silom location is very close to the Sathorn-Central pier.
Enjoy spending your time in the Silom district where there's a lot of great open markets and delicious food stalls. When you're in walking distance to everything convenient, it makes your vacation so much more relaxing. Don't hassle with the stress of getting a tuk-tuk driver's attention or calling an Uber. Especially on a busy night like Loi Krathong.
Enjoy Your Loi Krathong!
However you decide to celebrate this great day, Loi Krathong, we hope you have an excellent time. Just be sure to make a wish as you float your magnificent boat along the Chao Phraya while praising the river of life.