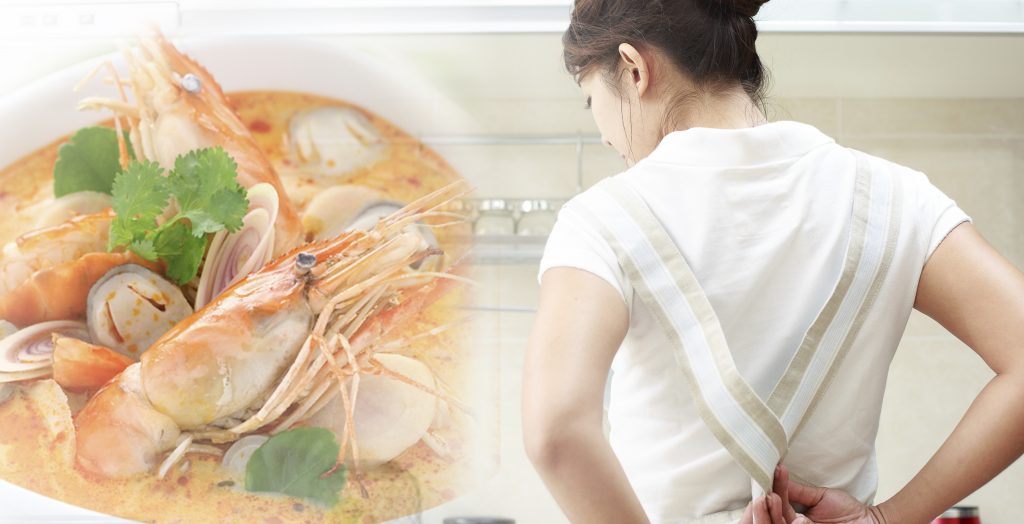 Tom Yum Goong (hot and sour soup with shrimp) is definitely one of the most popular Thai dishes in the world. It's loved for its sour-and-spicy flavour and the fragrant aroma that comes the assortment of herbs and spices used in this dish.
The explosion of flavour in this tasty soup comes from the lemongrass, kaffir lime leaves and fresh galangal root. You can also substitute chicken, fish or even more mushrooms for the shrimp. There are two different versions of tom yum soup – clear and creamy. Both are delicious, and the only difference is that the creamy version includes coconut milk or evaporated milk. For the purposes of this recipe, we're going to look specifically at the clear broth – as this is probably the most popular variety.
Are you ready for a taste of Thailand? Here's our recommended recipe for preparing Tom Yum Goong in your kitchen.
Tom Yum Goong Ingredients (serves 3-5)
2 litres of water
Fresh smashed galangal root, cut into slices
4 stalks of fresh lemongrass (the stalks should trimmed at the end of the root, and then smashed with side of a chef's knife and cut into smaller pieces)
5 cloves of garlic
10 fresh kaffir lime leaves
8 tablespoons of fish sauce (more or less to taste)
3 tablespoons of nam prik pao (roasted Thai chili paste)
500g of medium to large shrimp (shelled and de-veined)
10-12 Thai chili peppers (fresh)
2 white onions (sliced)
250g of oyster mushrooms
Two ripe Roma tomatoes, cut into small wedges
8 tablespoons of lime juice (more or less to taste)
2-3 sprigs of fresh cilantro
2 teaspoons of sugar
How to Make Tom Yum Goong
Begin by putting your water on the stovetop to boil. Then you'll want to start preparing your herbs. For the lemongrass, discard the outermost leaves and smash the remaining stalk with a mallet or the edge of a chef's knife to release the aromatic flavours. Finely chop the galangal root, peel the cloves of garlic and tear the kaffir leaves for more flavour. You'll also need to smash or chop the chilies.
Finally, combine the garlic, lemongrass, kaffir leaves, galangal and chilies into the pot of boiling water. Let this boil for about 10 minutes to create the soup base, then add the shrimp and mushrooms.
Let this boil for about 3 minutes and then add the fish sauce and sugar. Bear in mind that you may like to add more or less of these, depending on your personal preferences, so it's a good idea to begin with less and then taste the broth. At this point, you can also add the nam prik pao and tomatoes.
You don't want to overcook the mixture, so wait until the shrimp are cooked through, and then turn off the heat. You may want to adjust the flavour by adding a bit more fish sauce or sugar. Once you're satisfied with the flavour, ladle the soup into serving bowls and garnish with cilantro.